Sale!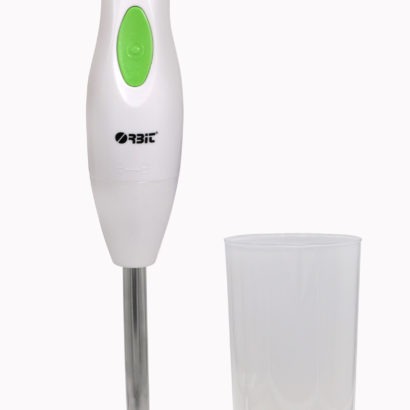 Orbit BN-0100 Hand Blender (Black,Red,White)
You can blend baby food, soups, sauces, milkshakes and mayonnaise with orbit hand blender. Important: With heavy mixtures, don't use your hand blender for longer than 50sec in any four minutes period-it'll overheat. Only use your hand blender for its intended domestic use. For Saucepan Blending: Take the pan off the heat and let it cool slightly. Otherwise, your hand blender could overheat. Fit the power handle (b) inside the blender shaft (c), turn and lock.
Plugin, To avoid splashing, place the blade, in the food before switching on. Don't let the liquid get above the join between the power handle and the blender shaft. Move the blade through the food and use a stabbing action. If your blender gets blocked, unplug before clearing. After use, unplug and dismantle.
Powerful Motor and Stable This Orbit hand blender is equipped with 300 Watt motor, which is evenly balanced for power and long-lasting durability. It crushes veggies, baby food, soups, sauces, milkshakes and mayonnaise in a flash! It is a saver for your busy kitchen. Stainless Steel Blade Featured with super sharp stainless steel blades that grind & blends every little particle perfectly leading to grant you amazing blending results.
Only logged in customers who have purchased this product may leave a review.